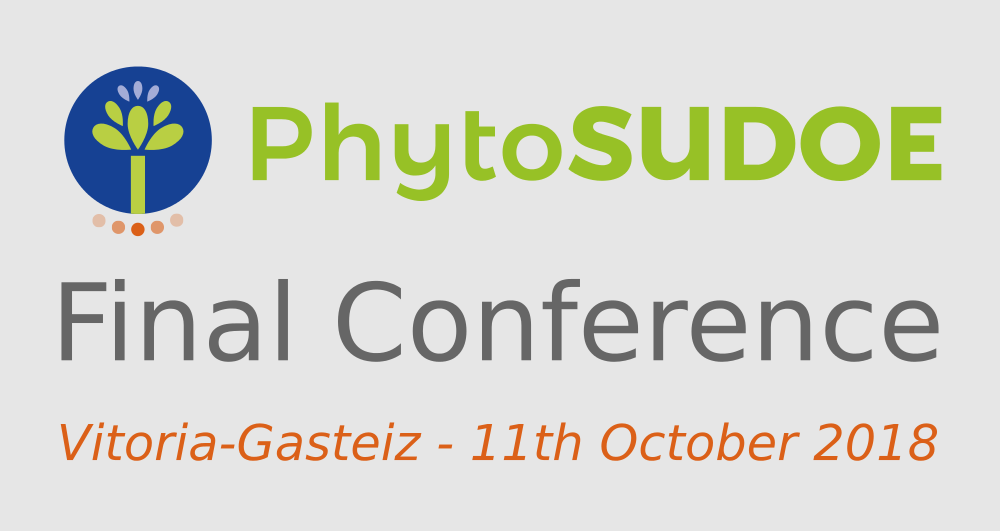 16 Jul

Program available and open enrolment for the PhytoSUDOE Final Conference!
Compulsory and free registration (until full capacity) in the Events section: link.

---
PhytoSUDOE Final Conference
Thursday, October 11, 2018
Europa Congress Palace (Gasteiz room), Gasteiz Avenue, 85, 01009, Vitoria-Gasteiz (Spain)
Simultaneous translation English-Spanish
---
Agenda
8:30-9:00 Registration
9:00-9:10 Official opening
FIRST SESSION:  PhytoSUDOE project´s results
9:10-9:30 Welcome and introduction to PhytoSUDOE by the Project coordinator. Petra Kidd (CSIC)
9:30-9:45 Phytomanagement experiences in Vitoria-Gasteiz. Juan Vilela (CEA)
9:45-10:00 Phytomanagement practices, crop performance and plant-microbial biodiversity: the Jundiz experience. José María Becerril (UPV/EHU) 
10:00-10:15 Impact of phytomanagement of a wood preservation site on soil biodiversity.Carlos Garbisu (NEIKER)
10:15-10:30 Impact of the phytomanagement of mine tailings in Galicia (Spain) on soil functions. Petra Kidd (CSIC)
10:30-10:45 Application of bioinoculants in mine-affected soils. Paula Castro (UCP)
10:45-11:00 Microbe-assisted phytomanagement in São Domingos Mine, Portugal. Rui S. Oliveira (FCTUC)
11:00-11:15 A collection of findings on Au and Ni phytomining. Luis Novo (UAVR)
11:15-11:45 Elaboration of guidebooks for best practices in phytomanagement. Michel Mench (INRA)
11:45-12:15 Coffee-break (with posters exhibition)
SECOND SESSION: Invited presentations on other European or International experiences
12:15-12:45 Willows: number one tool for phytotechnology. Michel Labrecque (Montreal University)
12:45-13:15 Perspectives on Greening the Superfund Remediation Technology Portfolio. Carlos Pachon (US Environmental Protection Agency)
13:15-14:00 Posters quick presentation session (3-5 minutes per poster and final round of questions)
14:00 a 15:00 Lunch (in the Conference venue)
15:00-15:30 Code of good practice for the implementation of phytoremediation in Flanders. Jaco Vangronsveld (Hasselt University)
15:30-16:00 How to influence bioavailability for reducing risks from organic pollutants in bioremediation. Julio Ortega (CSIC-Andalucia)
16:00-16:15 Round Table with the invited speakers.
THIRD SESSION: Soil decontamination in the Basque Country; policy, experiences and perspective (invited stakeholders)
16:15-16:30 Ana Alzola (IHOBE). Basque Policy related to management of contaminated soils (title to be confirmed).
16:30-16:45 Ekain Cagigal (TECNALIA). Basque Country experiences in contaminated soil management
16:45-17:00 Iñaki García (BASOINSA). Phytomanagement experiences of Basoinsa.
17:00-17:15 Pablo Irizar (DINAM). Non Aqueous Phase Liquid (NAPL) characterization, remediation and management in a polluted soil.
17:15-17:30 Maider Orueta (IRAGAZ). Decontamination of soils through the joint application of nanoremediation and bioremediation.
17:30-17:45 Eduardo Alzola (AFESA). Technological development, soil decontamination and administration…, how do we jump the gap?
17:45-18:00 Round Table with the invited stakeholders.
18:00-18:05 Closure. Petra Kidd (CSIC)
Compulsory and free registration (until full capacity) in the Events section: link.
This conference is held after the third edition of the summer course of the PhytoSUDOE project and the University of the Basque Country (UPV/EHU, registration on the website of the UPV/EHU). More information about these and other events organized by PhytoSUDOE in the events section.